1.5 Cubic Foot Bag Organic No-Till Living Soil™
Is your soil suitable for outdoor growing as well?

We have tons of customers using our soil outdoors with great asuccess.

Can this mix take me from dropping a germinated seed all the way till harvest by just adding water only? if only water is needed is there anything specific i could add to give a better yield orquality plant

We do have customers that use our soil that way, but it's not the best use of it in our opinion. You can check our blog for some basic guidlines to get the most out of the soil. Page 5 would be a good place to start.

Do you offer commercial or bulk discounts?

We do offer bulk discounts. It's best to either email us or call the store, and we can get you pricing.

I am very impressed by your products. I have seen the results and my buddy won't come off the recipe. Can you give me a rundown on what I need for a 30 gallon pot test run under full spectrum led using untreated rain water. Do you adjust for strain or DNA? I'm looking for a package, beneficial insects, soil, etc. Thanks.

We do not change anything for different strains. The run down would be, soil, cover crop, mulch, worms, rove beetles, nematodes, hypoaspis miles, then "feed" with Lactic acid bacteria serum, liquid fish, liquid kelp, and some fermented fruit juice. All of this info can be found in detail on our blog.

Hello, How many of the the 1.5 cubic bags of organic no till living soil will I need to fill up 6 of your 5 gallon fabric living soil pots (12" diameter x 9" tall). Thanks

Our bags are ~10 gallons. You're needing 30, so 3 of the 1.5 cubic ft bags would work out great.

All the best, 
Team @ Redbud Soil Co.

Hi, I'm trying to figure out how many bags of the no till living soil will I need for 6 plants with 5 gallon (circle)fabric living soil pots - grassroots, Dimensions: 12" Diameter x 9" Tall. also please fell free to recommend anything else I would need for example at some point I will add worms. Thanks

You would need 3 bags of soil. It's always a good practice to add worms, nematodes, cover crop, etc... Our blog is full of great info on all of this.

How much soil should I use for a 4x4x1.5 soil bed?

You would need roughly 21 cubic feet of soil.

Can this soil be used in a sub irrigated planter?

We have had customers successfully use this in a sub irrigated planter setup. SIP's take special care, but if done right you should be perfectly fine.

Why do you recommend a minimum of a 15 gallon pot?

You can read this blog post for all the info on what pot size is best for our soil. 

https://www.redbudsoilcompany.com/blogs/the-redbud-blog/what-size-container-is-best-for-no-till-living-soil

Is this too "hot" for seedlings?

We have done extensive testing with popping seeds in our soil, and we have had zero issues with burning them. We do advise that you fill your containers up with soil, and water them for 3 days or so to make sure the soil has settled before planting your seeds.

Is there any pH buffer in the soil?

The soil does contain amendments that will naturally buffer the PH. No need to ph your water at all.

Hello, Is there a place close to me that has your soil in stock? I'm in bentonville, ar, pretty close to OK border. Thanks! Jim horton

Right now the closest places will be in the Tulsa area. We have been speaking with Anuway Hydro about carrying our soil. If you went in there and asked for it I belive they would have it in stock within the week.

Do you make a seed to harvest water only mix if so is it available in bulk

Our soil can be used with water only, but for heavier yields we suggest adding in liquid fish, liquid kelp, aloe, and lactic acid bacteria serum. We can handle any size order from large to small.
Customer Reviews
02/08/2023
Kevin H.

United States
Best stuff around
Loved and still loving the soil and the staff at redbuds are second to none. Very knowledgeable about everything and took the time to print their S.O.P while I was talking about what's next. Best part isNO FLUSHING!!! No salt to build on roots because no liquid fertilizers. Best tasting buds I've had have come from this soil!!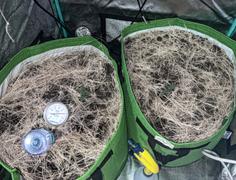 09/03/2021
Nathan B.

United States
I definitely recommend doing business with red bud soil they took care of me, excellent service.
Great, had an issue with postal service damaging my bag, red bud without hesitation corrected the issue. A1 SERVICE
07/29/2021
Stuart M.

United States
Redbud Rocks
Best soil company, ever. EVER.
08/11/2020
Bill s.

United States
Great soil !
I used to grow with bottle nutes at work while working with a legal grow in Denver, but always grew at home in no till !.?Switched to this brand after I got tired with making my own no till soil and was amazed with its results. For an off the self product it works great . Now I used this as my base and only have to top dress with my own dry additions of their no till drop dressing plus a few extras to know that my dirt I good for another round !
04/26/2020
Brad W.

United States
Soil
I haven't used it yet.
Good Soil
Good soil. My plants love it, and are thriving.
Five stars
best soil I have used so far. makes growing quality cannabis easy.
makes growing so easy
I have fumbled with other products, but after switching to redbud it has made growing so much easier. It's way less work, but the quality of my plants is better than previous soils. Can't argue with the results.