LT 12" Irrometer Tensiometer - Moisture Meter
Customer Reviews
01/19/2023
Anonymous

United States
Irrometer
It is such a great product I highly recommend it, then Larry is awesome they are always available to help you and answer any questions you may have.
12/15/2022
Anonymous

United States
A very simple way to put a number on moisture.
This meter is very helpful. Once you get it set in the soil tightly and water a couple times, it kind of seats itself and reads more accurately. Used it in 15gal containers as well as a 4x8 bed outdoors. They're invaluable in hot climates for keeping up with your plants. It's also really handy if someone else is checking on your grow for you. If they were any cheaper, i'd start putting them in house plants.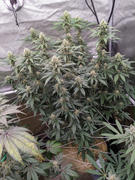 09/13/2022
Anonymous

United States
Works as intended
Works as intended. I did find more comfort in using the field service kit tho.
03/04/2022
Anonymous

United States
plants look better in less than a week...
and that nervous feeling of, "is it tooooo much or toooooo little..." is ebbing away as the plants look much happier.